Fixing Your IOSes for the HackMii Installer
This installer can NOT continue!
There is no known vulnerable IOS installed on this Wii.
Please note that we will not use a fakesigned IOS due to security reasons.
Look for an updated version at:
http://bootmii.org
If this is already the latest version... well, suck it.
If you get this error when running the HackMii Installer it means you are either using an old version of the HackMii Installer (the current is v1.2) or you have patched or done something to your IOSes before trying to run the HackMii Installer. IOSes are basically the Wii's "operating system." There are a few different reasons why this error may occur:
You have installed cIOSes [custom IOSes] in place of your original IOSes. These are things like cIOScorp or Darkcorp which allow you to play "backup" (AKA copied) Wii games. These cIOSes should NOT be used by ANYONE. They seriously mess up your Wii.
You have patched your IOSes with app such as Dop-Mii, Dop-IOS, Trucha Bug Restorer, Multi-Mod-Manager, or Pimp My Wii. Patching IOSes is not recommended for beginners (and is not necessary anymore).
You are trying to use an old version of the HackMii Installer on System Menu 4.3. For a while the HackMii Installer could not be used on 4.3 but has now been fixed. You should be using the latest version (v1.2 as of this writing)
Some people have been getting this error and the cause is yet to be known. Usually (99.9% of the time) it is one of the above situations.
Fixing the issue
You will need:
An exploit to run homebrew
An SD card/card reader if you don't already have one (you should..)
NUS Downloader (if you do not have an internet connection on your Wii)
What to do:
First you must prepare your SD Card.
Set up the exploit as shown on it's page (you should already have this done).
Extract the files from "DOP-Mii WiiBrew Edition v14.5.zip"
Go to the "apps" folder in the folder that you just extracted and then into the "DOP-Mii: WiiBrew Edition" folder.
Take the "boot.dol" file and put it on the root of your SD card (root means not in any folders; just on the SD card)

Note: If you have "boot.elf" on your SD card you must rename it to something else temporarily so you don't confuse the loader. I suggest renaming it to "HackMii.elf"

Also, take the "config" folder from the extracted files and copy it to the root of your SD card.
If you have an internet connection on your Wii, you can skip this next section of bullet points. Continue
If you do not have an internet connection you must use NUS Downloader [NUSD] to get the IOS .wad file. (A .wad file is a container, much like a .zip file, that contains Wii software such as Channels, IOS, and other System software.)
Open NUSD and click "Database"
Go to "IOS" --> "000000010000003A - IOS58" --> "Latest Version"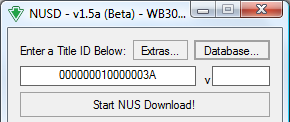 It should look like this.
Make sure you check the "Pack -> WAD" box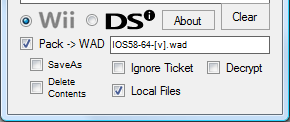 Click "Start NUS Download!" and let it run.
Now there will be a new folder in the same directory as NUSD called "000000010000003A"
Open the folder and make sure there is a file called "IOS58-64-v6176.wad"
On your SD card, create a folder (on the root) called "wad"
Copy "IOS58-64-v6176.wad" into the newly created "wad" folder on your SD card.
Your SD card should look something like this: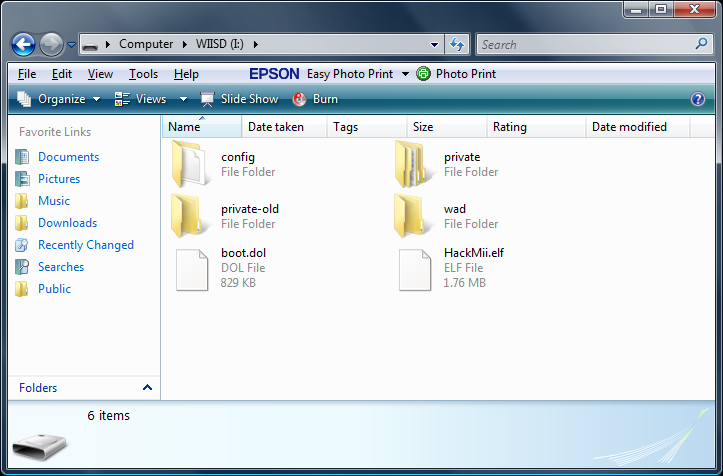 You must now run the exploit of your choice. (I will not explain that on this page, see each exploit's page for this)
Dop-Mii: WiiBrew Edition should now load (rather than the HackMii Installer).
It will ask "Which IOS would you like to use to install other IOSes?", choose IOS36.
Go to the IOS section and scroll right to IOS58.
Press + to install v6176 then it will ask you if you're sure, press A for Yes.
It will say "Loading IOS58 v6176 into memory" and you must select either "Download from NUS" (if you are connected to the internet) or "Load WAD from SD card" (if you have the WAD file on your SD card).

You can also do the same process for other IOSes in order to remove all cIOSes.

Wait for it to install and then exit the application when you are done.
Now you should be able to remove the app from your SD card.
Delete the "config" and "wad" folders as well as the "boot.dol" file.
Rename "HackMii.elf" to "boot.elf"
Run the exploit again to run the HackMii Installer. It should now work running on IOS58.