The HackMii Installer

The HackMii Installer is an application that installs the Homebrew Channel and BootMii on your Wii.
Usage:
When you load the HackMii Installer, wait for "Press (1) to continue" to appear.
Press 1 on your Wii remote.
It will show what you can (or cannot) install. The Homebrew Channel should be able to be installed no matter what. If you have a new Wii you will only be able to install BootMii as an IOS.
Press Continue and select "Install The Homebrew Channel" and let it run. You should not install BootMii unless you know exactly what it does and what the risks are.
BootMii can be used as "Brick Protection" when it is installed as boot2. Newer Wii's (all non-white Wii's) cannot install as boot2 because they do not have a vulnerable boot1.
When you select "Exit", you should be returned to the Homebrew Channel.
Continue Below
Helpful Pictures: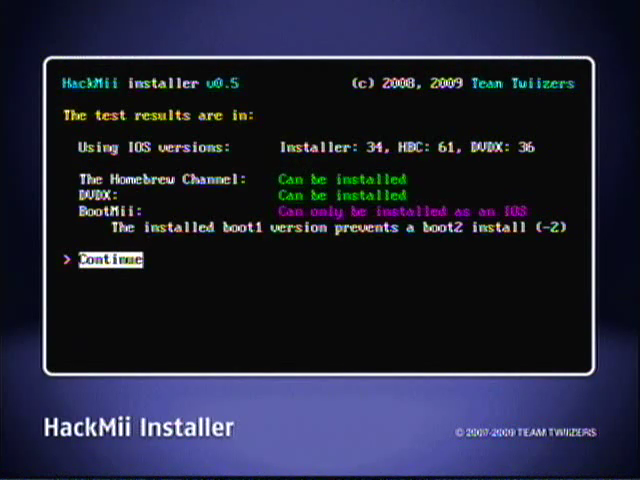 The HackMii Installer (If you cannot install BootMii as boot2
Note: This is an old version; DVDX is no longer supported nor included in the HackMii Installer
Once you have installed BootMii and The Homebrew Channel, you can delete the "boot.elf" file and the "private" folder from your SD card. Also, rename the "privateold" folder back to "private" if you changed it. You can also remove hacked saves from your Wii if you used savegame exploits.
Troubleshooting:
If you get a message saying "There is no known vulnerable IOS installed on this Wii" click here.